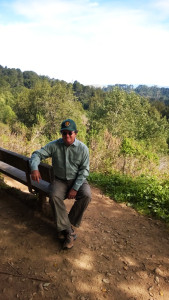 Dimond Park connects by trail to Dimond Canyon Park, Joaquin Miller Park, and to the Bay Area Ridge Trail and beyond. Today, we interviewed Jim Townsend, Interim Chief of Design & Construction for the East Bay Regional Park District, from a scenic trail location in their jewel – Redwood Park – to talk about that "beyond".
I've been enjoying the Regional Park system for more than 25 years, so it was a pleasure to hear Jim talk about the history, successes, and plans for the future – and a brief description of the more than 500 miles of trails (!) to which Dimond Park is connected. This park system, the first of its kind in the U.S., was created in the 1930's. And even though the country was in the grip of The Great Depression, our forebears voted to tax themselves to form the assessment district. Amazing.
For a descriptive time-line of East Bay Regional Park District history, created to help celebrate their 80th anniversary in 2014, please click here.
After Jim's interview, we captured footage from the Cascades area of Joaquin Miller Park.