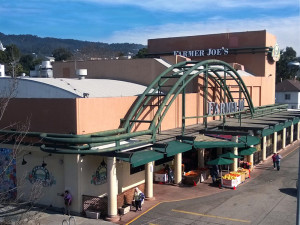 We were down one filmmaker, but we didn't miss a beat. We started the day at sunrise on the roof of La Farine, which offered us a grand view of Farmer Joe's Marketplace and the hills beyond. We then started documenting my hike from Dimond to the Bay Area Ridge Trail. With a camera following me, I walked from the bakery until I entered the park from its two Dimond neighborhood entrances: the end of Dimond Ave, and off Fruitvale Ave near the tennis courts. Henry filmed as I continued to the entrance of Dimond Canyon Park from El Centro Ave until I disappeared into the woods.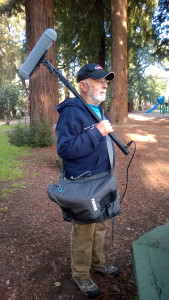 Then, I gave Henry a tour of the Dimond Business District for some b-roll (def: supplemental or alternative footage). We spent most of our time in and around Farmer Joe's, but we'll be sure to visit Paws & Claws and Hive, the place to bee the next time through. More, too, from Dimond will be shot for consideration in the final cut.
Thanks to Noel Black, Keep Dimond Clean volunteer, for helping us out by following Henry with the boom mic!
Next was an interview with Deidre Joyner at Bellanico Restaurant & Wine Bar in Glenview. She's a local, experienced realtor, so today we asked her to describe the neighborhoods and business districts that connect to the parks and trail system. It was very interesting to hear her thoughtful descriptions, including the architectural charms, history of the neighborhoods, and opportunities the heart of Oakland has to offer a business and homeowner.