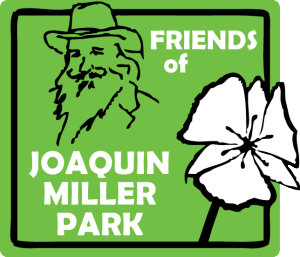 The Oakland Parks & Recreation Department strives to have an advisory council for each of its 100+ city parks. On every second Monday of the month, Friends of Joaquin Miller Park, with their diverse Board of Directors, meets to aid the city by identifying issues and opportunities to enhance the experience in Joaquin Miller Park's more than 500 acres for Oaklanders and visitors alike. Today, we visited their board meeting to film them in action.
After updates on several on-going projects, including new kiosks and signage to reduce trail-use conflicts, the bulk of the meeting was dedicated to helping Robert Kennedy, Public Works Park Supervisor II, and Rebuilding Together Oakland's Rachel Matthews, Program Director, plan specific projects for up to 500(!) volunteers who will descend on the park over two Saturdays in April.
Friends of Joaquin Miller Park (FOJMP) are hikers, mountain bikers, equestrians, dog owners, cross country runners, historians, writers, and neighbors — all dedicated to maintaining, preserving and enhancing the rich natural legacy that was originally the home of the late 19th Century poet and environmentalist, Joaquin Miller. FOJMP is sponsored by Oakland Parks & Recreation Foundation, a 501c3 non-profit corporation in Oakland, CA. Join today!
Rebuilding Together Oakland (RTO) works collaboratively to repair and renovate the homes of our most vulnerable neighbors. High-impact community facilities that deliver programs and resources to under-resourced communities may also be eligible for consideration. Click here to learn more about the many ways you can support RTO's work.