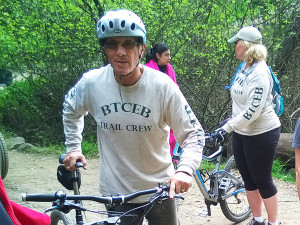 Today was all hands on deck for a full day of filming. We started by interviewing Mike Udkow, retired physician and President of the Bicycle Trails Council of the East Bay. I feel it's important to promote the organizations that take care of the trail system, and no other group has put more effort into trail work – we're talking hard, physical, and smart labor – than the BTCEB. As a stakeholder member on the Friends of Joaquin Miller Park Board of Directors, their monthly workdays in Joaquin Miller Park tackle many challenging maintenance issues:
Ecological – rerouting trails out of seasonal creeks and away from sensitive habitats, including the redwoods
Safety – rerouting trails with excessive grades and dangerous intersections
Stewardship – blocking illegal or "social" trails once they're formed by renegades
BTCEB, the oldest mountain bike club in the nation, greatly appreciates the access to Joaquin Miller Park and Dimond Canyon Park, and will continue to promote the sport, help maintain the trails, and educate their members on how to be responsible trail users.