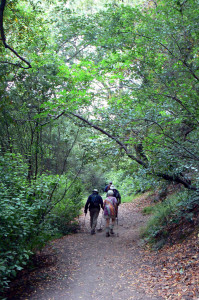 I've enjoyed volunteering in Dimond Park, Dimond Canyon Park, and Joaquin Miller Park since 2008, shortly after I moved into the neighborhood and discovered them. I've rebuilt trail beds, trimmed thorny blackberry and poison oak off the trails, and painted over graffiti on the Leimert Bridge. I've spread city-supplied gravel over muddy parking areas, cleaned litter out of Sausal Creek, and even helped update Oakland's emergency dispatch database, making sure that every trail name and park facility was included and spelled correctly.
There are hundreds of dedicated volunteers taking care of all aspects of the parks. Friends of Sausal Creek, Friends of Joaquin Miller Park, and the Bicycle Trails Council of the East Bay (just to name a few organizations) work year-round in these parks, up and down the hill. Like me, they love this place, and are inspired to give back.
But then, in the summer of 2011, I decided to lead a hiking tour on behalf of the Dimond Improvement Association. The first one had a handful of people, mostly friends from the neighborhood. The next one had more, and by the tenth tour, I was leading a group of almost thirty people from Oakland, and often Berkeley, Alameda, and San Leandro!
If only I would have kept track of how many times I've heard this from a Dimond Park-area local:
"I've lived in [insert the name of your neighborhood here] for twenty years, and I had no idea I could hike from Dimond Park up to the Bay Area Ridge Trail!"
But, they found out. They found out what they were missing, then started bringing their friends along with them. And I found my volunteer niche.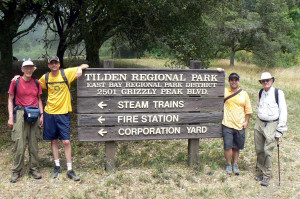 While many do great volunteer work maintaining the park facilities and trails, my focus is to promote them. I've taken adults, inner city youth, and seniors on hikes. I've led two-mile hikes, and six-hour treks from Dimond Park to Tilden Park (about 13 miles), and to Moraga (about 10 miles). I take pleasure in exposing locals and visitors to something new, showing off our beautiful trails, creeks, and woods, and our local businesses and neighborhoods.
Making a documentary film had been my dream, but one that seemed unattainable. Fortunately, in October of 2014, I met Emily, Katherine and Henry, who had recently completed the M.F.A. Documentary Film & Video Program at Stanford University and moved to Oakland.  When I pitched this project, they were excited and they understood my vision for the film. So, I got to work. I received permission from the city, secured a fiscal sponsor, then by late December, began fundraising.
In just three months from its conception, with my outreach, the partnership with Friends of Oakland Parks & Recreation and the City of Oakland, and the generosity of this community at large, we are almost there. We are on target to shoot the film in March (while the grass is still green!) and we should have a finished documentary by July of this year – a beautiful, educational film about the trail system, the volunteers who take care of it, and the neighborhoods that are connected to it.
As of January 31, 2015, we have raised $12,000 towards our goal!
The minimum budget for this film project is $15,500. With continued support, be it by your donations or by your willingness to share this project with your friends, neighbors, co-workers, and customers, we'll begin the production of this film very soon.
With gratitude for this greater community's amazing spirit and generosity,
– Stan Dodson
Executive Producer
Volunteer
Donations are tax deductible, processed through our fiscal sponsor Friends of Oakland Parks and Recreation, a 501(c)(3) non-profit corporation in Oakland, CA. Tax ID# 94-2751052