---
Mission Statement
Our all-volunteer organization is dedicated to promoting, maintaining, and enhancing the City of Oakland's wildland parks and trails.
Vision Statement
Oakland's wildland parks will be safe and well-maintained, welcoming Oaklanders and visitors alike.
Log of Volunteer Hours in 2017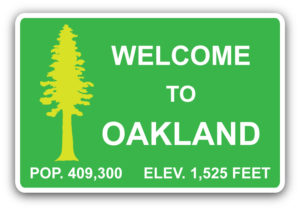 Trail Patrol: 2,703 hrs
Trail Maintenance: 701 hrs
Admin/Promotions: 424 hrs
Total volunteer hours: 3,015 hrs
Log of Volunteer Hours in 2016
Trail Patrol: 1,476
Trail Maintenance: 241
Admin/Promotions: 406
Total Volunteer Hours: 2,123
Past Newsletters
November-2017, August-2017, July-2017, May-2017, February-2017, December-2016, November-2016, October-2016(2), October-2016(1), September-2016, August-2016, July-2016, June-2016, May-2016, April-2016(2), April-2016(1), March-2016, February-2016
History
Oakland Trails began as a committee of the Dimond Improvement Association (DIA) formed by Stan Dodson in 2010. With a group of DIA volunteers, Stan led several trail maintenance projects to rehabilitate Dimond Canyon's trail system, and in 2011, began a series of hiking tours to promote it. He then joined Friends of Joaquin Miller Park (FOJMP) as an at-large board member. Leading projects for both organizations, Stan concentrated his efforts on promoting and maintaining more than 600 acres of parkland that connect Dimond Park (200 feet elevation) to the Bay Area Ridge Trail (1500+ feet elevation).
Our volunteer efforts have included:
In 2014, Oakland Trails became an independent program by entering into a fiscal sponsorship with the Oakland Parks & Recreation Foundation.
Photos from in and around Oakland's wildland parks
Collaboration
Oakland Trails proudly partners with the City of Oakland and several local organizations, including:
Staff
Oakland Trails is an all-volunteer organization:
Special thanks to the following for their professional services: